I bought a 2013 Kia Soul base model. It only had one power outlet in the front. I added a second power outlet to the back of the console.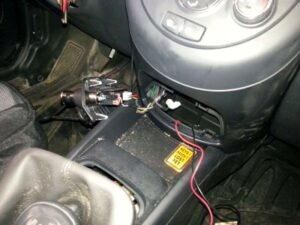 First This I did was popped out the face plate with the existing Power Outlet in it. Then I ran a red and black wire down into the console. If you look you can see the connector just hanging there that is actually for a second outlet in the front of the non base Kia Souls. I also popped off the shifter boot to help run the new wires.
---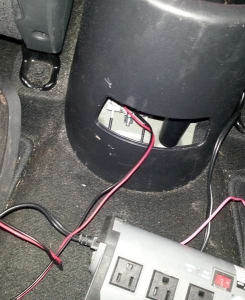 The wires were then brought out of the hole from the removed face plate. It was real easy to run with the boot removed from the shifter.
---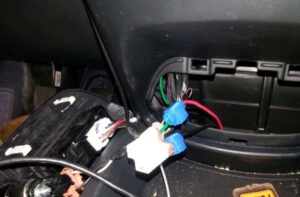 I then used a set of inline "vampire" taps to get power from that unused second front power plug. This plug was already there and not used because the base model does not have two outlets in the front.
---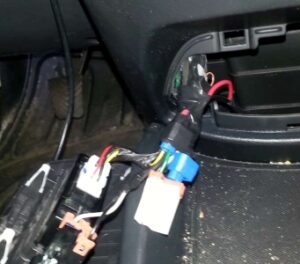 I then just taped them to the existing wire harness to keep them from moving, then snapped the face plate and shifter boot back in place.
---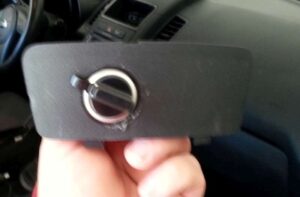 I then drilled a hole to put the power port into. The bit slipped so it is scratched near the bottom.
---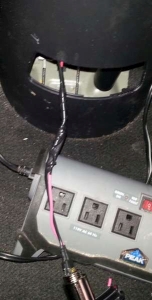 I used a set of inline butt splices to put the wires together and taped them up. If I had any I would have just used spaces to plug directly into the power outlet. I may pick some up and do this still.
---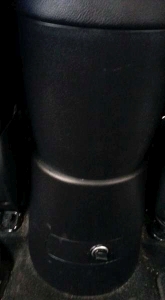 I then popped it all back together.
---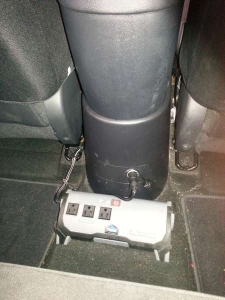 Then I plugged in my power inverter and was done. Those wires going around the left are just the long plug that that comes on the converter. I put them there to keep the fuse out of the way.
All in all it took about 30min. It is much better then having all those wires up front by the shifter.